Milan, 12.04.2018. It is now available online the latest issue of "Italian Long-Distance Coach Transport Market Repor, Year 2017". Published thanks to the agreement between TRASPOL and the search-engine Checkmybus.it, the latest report shows a market that is still lively where prices tend to grow. Thanks to the database made available by Checkmybus.it, it is possible to study the profile of platform users, the prices, the level of market concentration, the main routes.
The 2017 report highlights that prices have increased, by at least 8%, compared with the previous semester, and by 20%, compared with the same semester of the previous year. The price increase is recorded by the average weighted price, that has grown from 0,053 €/km (I semester 2017) to 0,058 €/km (second semester 2017). Overall, during two years of monitoring, we observed an increase in prices approximately of 50%.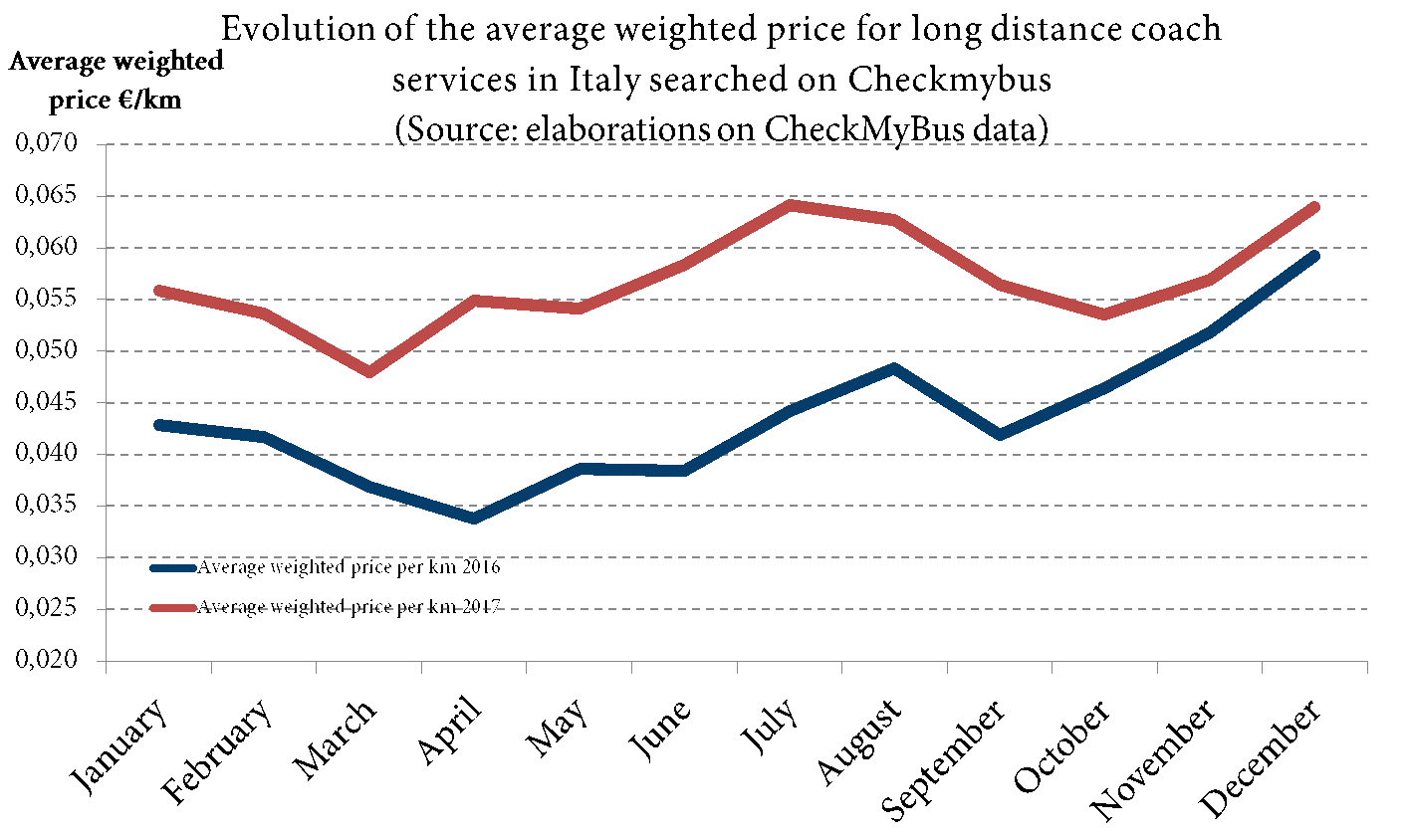 In the second semester 2017, the number of transactions on the website has increased with respect to the beginning of 2016. Furthermore, the importance of the geographical submarkets has changed, depending either on a seasonal effect, an expansion of the overall market and an increasing penetration of Checkmybus.it.
The second semester 2017 data on researched tickets shows a slight reduction of market concentration between types of sub-markets. The reduction is strong on south-south connections, lighter on other connections and absent on north-north and center-center routes.
The weighted price per km is higher for shorter routes. This occours also if there is a High-Speed Train service for the same OD couple. Therefore it is possible to infer that High speed Train prices (higher than the coach ones) influence coach prices, raising them up.
The price index calculated on the whole sample (2017) is 0,058 €/km, with a clear growing trend (it was 0.053 €/km in the first semester). In particular, during the period July-November 2017, the price increase appears even stronger, hitting of 0.07 €/km of average weighted price on center-center routes. Overall is the fourth semester with a price increase.
Milan, Rome e Naples Milan and Naples are the main origin and destination in terms of researched tickets on Checkmybus.it. Among the most researched routes appears Milan- Turin, Florence – Bologna, although there is a competition with rail services and Turin – Bergamo due to airport link demand.
The average price trend decreases as the distance increases up to 800 km. Beyond that threshold prices are higher than in the past.
TRASPOL report 1/18 – Italian Long-Distance Coach Transport Market Report | Y1-2017