CONFERENCE: Long-distance passengers transport: market, planning, innovation ||| 28-29 September 2017
TRASPOL, the Laboratory of Transport Policies of Milan Politecnico, is organising a workshop on the topic of long-distance passengers market. The first day of workshop is in Italian and is dedicated to national issues. The second day, in English, will host academics and scholars to share studies and experiences on the long-distance markets. A selection of papers presented at the workshop will be considered for publication on Research in Transportation Economics.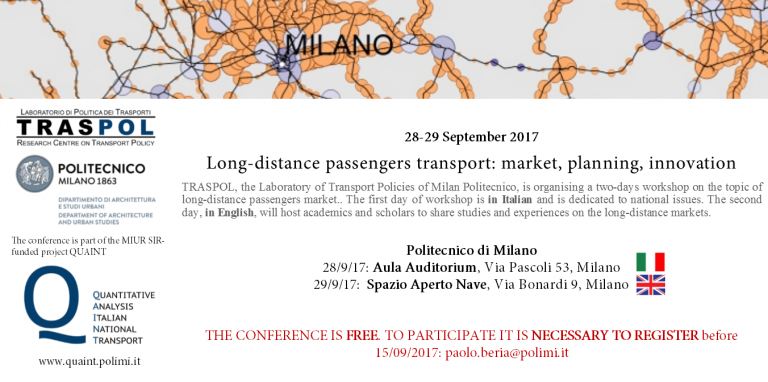 PROGRAMMA GENERALE
28/9/2017 – Policy session 
…see Italian conference page!


29/9/2017 – Research session
9:15   Welcome address
9:30   A. The geography of long-distance transport
11:15   Presentation of QUAINT— QUantitative Analysis of Italian National Transport
11:45   B. Planning and policies for the long-distance transport
13.00   Light lunch
14:00   C. Liberalisation, competition and their effects
16:00   D. Intermodal competition
–> DETALIED PROGRAMME and venue information
The conference is free, but registration is needed

before 15/09/2017

. Write an email to: paolo.beria@polimi.it
VENUE INFORMATION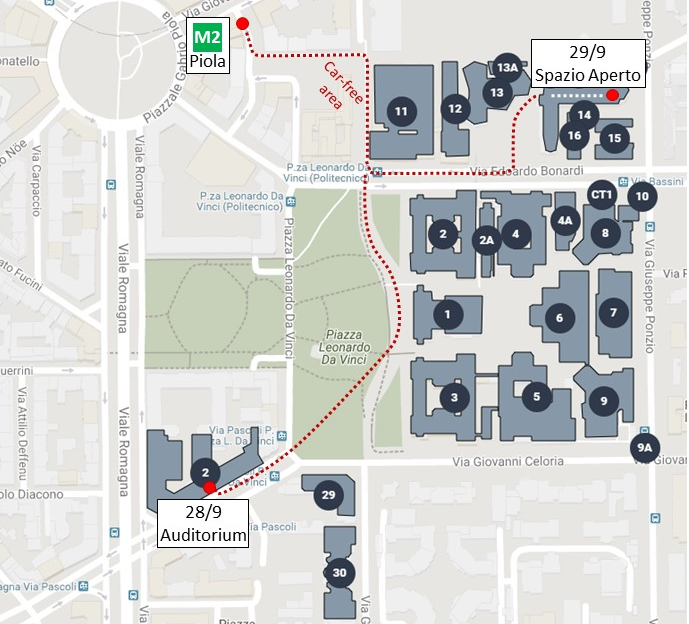 PIOLA M2 (green line) metro stop is:
At about 20' from Central Station via M2.
At about 10' walking from Lambrate Station (bus to Linate every 30')
At about 20-25' via M2 from stations Garibaldi and Cadorna, both served by trains from Malpensa.
At about 20' by taxi from Linate airport
28/09/2017 – Aula Auditorium, via Pascoli 53
From metro station PIOLA, line M2 (green), follow the car-free area and reach Leonardo da Vinci square.
Cross the square passing next to University buildings and reach Via Pascoli 53.
The room is along the right side of the street.
29/09/2017 – Spazio Aperto Nave,  Via Bonardi 9
From metro station PIOLA, line M2 (green), follow the car-free.
Once reached a news-stand, turn left in Via Bonardi (see the tram line) and follow the street.
Enter in the university area through the car-gate. Enter the building 14, called "Nave", at level –1. The room "Spazio Aperto" is at the very end of the corridor.